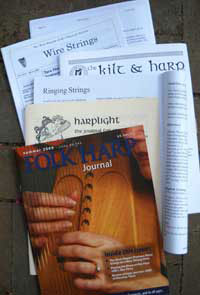 Cynthia has researched and written several articles about the wire strung harp, its music, history and technique. In addition to her regular column, Ringing Strings, in The Folk Harp Journal
of the ISFHC, her work has been published in Wire Strings (the journal of the Wire Branch
of Comunn na Clarsach in Scotland), the Bulletin of the Historical Harp Society,
the Kilt & Harp (the journal of the Scottish Harp Society of America,
of which she also served as editor for 5 years.) Her work can also be found in the Harplight Journal for Small Harps, which was published in Canada.
Cynthia also contributes content to www.WireStrungharp.com, a useful on–line resource for the wire strung harp.
Below is a listing of some of her articles that are available here on this website:
The following links will guide you to some of Cynthia's work that is hosted on outside websites:
Personal Interviews