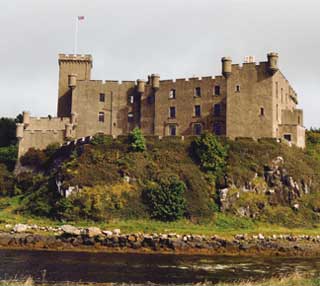 Dunvegan Castle on the Isle of Skye
(photo by Cynthia Cathart)
I was honored to receive the first place prize as Senior Amateur clàrsair at the U.S. National Scottish Harp Competition in Alexandria, Virginia, last summer. I thank all the members of the Scottish Harp Society of America for making this event possible, and most specifically I want to thank the members who contributed personal funds towards the prize so that I could make the traditional study trip to Scotland.
The prospect of traveling to a country whose music I love, which I had yet to visit, was too exciting for any delay. I scheduled the trip for the first two full weeks of September, less than two months after winning the prize. My first lesson came in Edinburgh, where we began the trip. I carried my clàrsach into a pub in the old town, having paved the way with a friend I made on the internet. Well, he wasn't there yet when I arrived, but a ceilidh band was sitting at some of the tables upstairs, playing away. I steeled my nerves and approached one of the players and asked, What does one need to do to sit in? He said, Get out your instrument. As soon as I did, I heard gasps from the assembly. It's been a long time since someone was here with a clàrsach! I was anxious to make a good first impression so I played my tuning song Jock O'Hazeldean. As I played, I could hear that people were singing along with me, just under their breath. I had a moment of panic: how many verses are there in Jock O'Hazeldean? I strained to hear the words, because I do know the last verse, and got it right.
Lesson Number One: Play All the Verses! And Know How Many Verses There Are!
My friend Martin finally did show up around 11:00 for his gig... late nights in Edinburgh! I think I played every strathspey, jig, reel and march I know. There was no room for aires or laments, it was much too rowdy. We were sitting in a wee alcove on the lower level of this pub, my friend on vocals and guitar singing ballads, and me on clàrsach. The way it works is this: if you want to play or sing, you nod at Martin and he gives you the next tune. He was in the middle of a ballad when someone walked up to him and said, Excuse me! Excuse me! He stopped singing, and this bloke said, I want to sing a song with you and the clàrsach here. Fine, said Martin, but can I finish my song, first? and so this fellow went back to his table, and Martin finished his tune. Our acquaintance was in a conversation by then, and so I took a set, while he started talking louder and louder, and got more and more boisterous. I was wearing down my fingernails just trying to play louder than he was talking! When I was done, he came over and said, Well, is it my turn now? and Martin said, We're going to show you the same respect you showed us and he turned to me and said, Let's do a reel.
Lesson Number Two: Show Respect to Other Musicians as You Expect Respect Yourself, and If Someone Else Doesn't Show Respect for YOU, Don't Let Them Get Away With It! (This was my personal favorite lesson of all.)
Another evening, I went to a ceilidh near Edinburgh Castle with my husband and two young sons. We learned there how to dance the strathspey, and both my younger son and I learned to dance a reel. (Except that Alex, only six years old, kept going the wrong way. Driving on the wrong side of the road, he is.)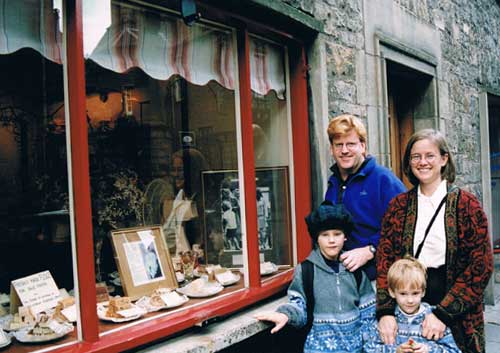 Cynthia with her husband and young sons in front of a sweet shop on the Royal Mile, Edinburgh. (photo by a kind passerby)
Lesson Number Three: Always Bring Your Instrument to Ceilidhs, No Matter How Formal They Appear. Golly, I wish I had! And so did everyone else. You play the clàrsach? And you didna bring it wi' ye?
From Edinburgh, we traveled to the Isle of Skye. On the Ferry, the steward recognized that I had a clàrsach in tow despite its bulky case. He was so honored to have it on board with him, that he insisted on watching it for me during the trip over. I think, in another age, he would have kissed my hem! Lesson here: We Are Important, and Honored By Our Friends In Scotland!
The magnificent Black Cuillin Mountains (photograph by Cynthia Cathcart)
From The Isle of Skye (which by the way, is stunningly beautiful. If you ever have the opportunity to go there, take advantage of it. It's like visiting paradise) we went on toward Inverness. William Taylor lives nearby, and he has devoted himself to the study of this ancient instrument and music. I spent hours with him, sharing and learning, and identifying sources of music that I must now spend hours following up on. While there, we went to the Ardival Harp workshop in Strathpeffer, and met the man responsible for making their wonderful harps. We saw how they begin with large estate trees that either have come down due to storms, old age, or because of a public–works project. They cut the trees into long planks there in the mill. After air–drying for months, they are placed in a kiln to finish drying the wood (necessary because of the forced–air heat in our modern homes.) George carefully chooses the trees which he will honor by turning them into harps. Everything is done right there in his shop, from hollowing out soundboxes to putting on the final natural finish. It was great fun to observe how much care is put into our instruments before we even begin to play them.
Lesson Number, oh I lost count: These Harps and clàrsachs We Play are Terrifically Special, even during their creation.
After Strathpeffer, we made a final, purely tourist, stop in Stirling, as my husband's family includes some Wallace blood. The castle is lovely, and full of history. Nothing particularly harpish here, but I was well satisfied with what I learned. Besides the actual lessons that I can document here, there is the final lesson of spirit. Having seen the Highland mist, I can now truly play Mist Covered Mountains. Now that I have walked the battlefield of Culloden Moor, the laments for those brave men have a depth of meaning that wasn't possible before for me. And now, when I play Over the Sea to Skye I no longer think, Oh, not this old chestnut again but I think of how the Isle of Skye would have appeared to Prince Charles Edward Stuart as he sailed over the sea, before he fled across the Isle towards the astounding, jagged peaks of the Black Cuillins.
I came back home changed, and I know it shows in my music. Thank you, all, for sending me over the ocean to Scotland!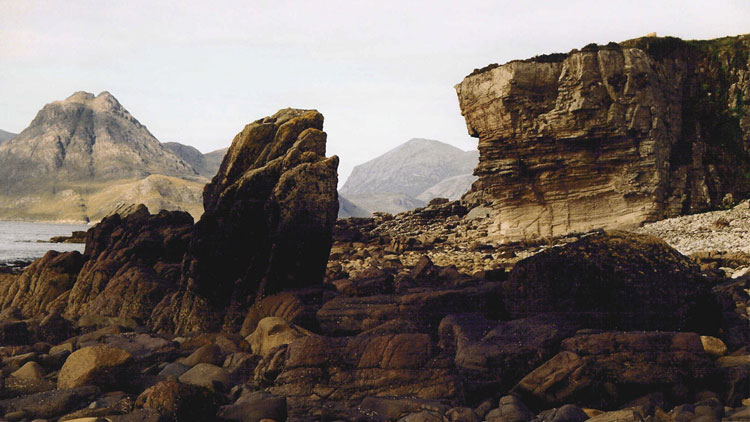 On the Isle of Skye, looking towards the Black Cuilens. (Photograph by Eric Cathcart)